MECHANISM OF COPPER CATALYZED NAPHTHOL C-C COUPLING
Using mass spectrometry, infrared multiphoton dissociation spectroscopy, and theoretical calculations we have shown that a single copper(II) ion cannot activate a naphthol molecule for a C-C coupling with another naphthol molecule. The coupling proceeds in ad hoc formed binuclear clusters containing two copper ions, where each of them activates one molecule of naphthol. Clusters can be transferred from the reaction mixtures to the gas phase using electrospray ionization. We have characterized the isolated clusters by their infrared spectra and shown that the C-C coupling occurs after "heating" the clusters by IR photons. Reaction is directed by the keto-enol tautomerization of the product. Alternative products of C-O or O-O couplings are energetically disfavored.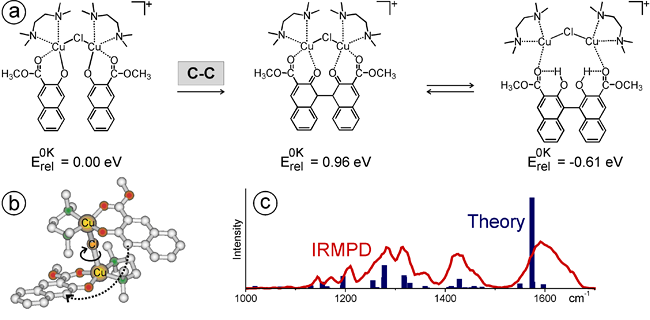 Fig. 1. a) Mechanism of C-C coupling of two naphthol molecules (methyl ester of 3-hydroxy-2-naphthoic acid and Cu(OH)CloTMEDA were used for the experiment); calculations were performed using a DFT method. b) The most stable structure of the reactive cluster (hydrogen atoms are deleted); arrows indicate the course of the reaction. c) Comparison of the experimental and theoretical IR spectra of the reactive cluster.
MORE INFORMATION CAN BE FOUND IN PUBLICATIONS:
"Gas-phase study on the C-C coupling of naphthol catalyzed by Cu-II-TMEDA: Evidence for the key role of binuclear clusters", J. Roithová, D. Schröder, Chem. Eur. J. 2008, 14, 2180.
"Naphthol Coupling Monitored by Infrared Spectroscopy in the Gas Phase", J. Roithová, P. Milko, J. Am. Chem. Soc. 2010, 132, 281.